Welcome To Your Journey For:¶
---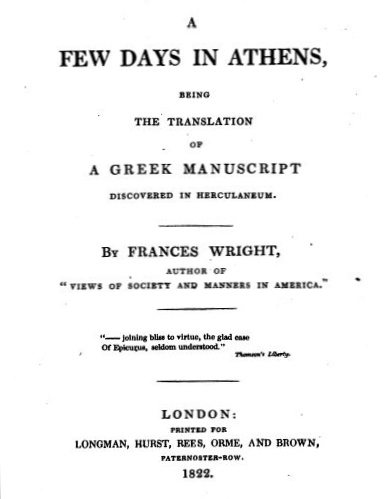 ---
The Complete Text Of A Dialogue By Frances Wright On Epicurus and His Philosophy
---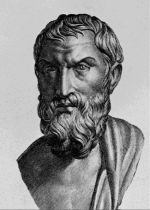 Thomas Jefferson, who said of himself "I too am an Epicurean," called A Few Days In Athens – "A treat to me of the highest order." Jefferson wrote that "[T]he matter and manner of the dialogue is strictly ancient … the scenery and portraiture of the interlocutors are of higher finish than anything in that line left us by the ancients; and like Ossian, if not ancient, it is equal to the best morsels of antiquity."
Read the story of the remarkable life of Frances Wright, her travels to America with the Marquis de Lafayette, and her meeting with Thomas Jefferson here.
To begin reading with Frances Wright's Introduction, click here.
For a Table of Contents and Finding Aid, click here
For a Spanish translation, click here for the Spanish version at the Society of Epicurus.
For chapter by chapter discussion of the book, go to the Epicureanfriends.com forum here.
Listen to the Full Book at Youtube here.
Click Here To Download Or Listen Chapter By Chapter At Archive.org.
Read or Download the Book In Original Format By PDF Here (1850 Edition).
---
This website is brought to you by NewEpicurean.com and EpicureanFriends.com. If you have questions about this material, or wish to discuss it with like-minded students of Epicurus, please visit us at the Epicureanfriends.com forum.